Business Intelligence for Brokers and MGA's
Senior management needs a complete overview of the business to efficiently translate insight into decisions and actions. Many in the insurance sector have been constrained by resources such as time, money and technical skills to capitalise on information from data at this level, as data is often captured in multiple systems because LOBS operate in silos.  A piecemeal approach to business intelligence is often the case, making it difficult to identify trends and outliers and where duplication, a proliferation of systems, poor efficiency, increased cost and no single version of the truth exists. 
To monitor performance, provide desired products and levels of service to meet customer and partner needs and comply with industry standards and regulations brokers and MGA's need efficient access to business intelligence from both internal and external data sources.  Data Analytics can provide this level of information but it works most effectively at an enterprise level where KPI's can be aligned with business goals.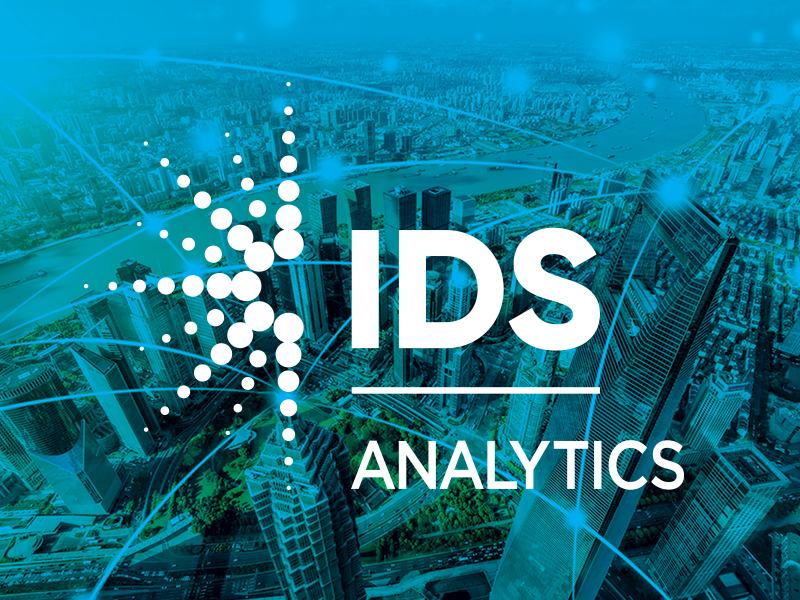 The IDS Analytics Solution
The IDS Analytics Solution fast tracks the ability of Brokers, Insurers and MGA's in monitoring performance and gaining insight from their systems and data sources at fraction of the cost other suppliers are charging!  
IDS can provide a complete set of pre-built relevant broker or MGA data visualisation dashboards and management information reports focusing on all your key KPI's and metrics.  Data Enrichment provides further information on risks and customers.  Our Insurance Data Warehouse integrates and optimises data from multiple systems and sources. 
The IDS Analytics solution includes a platform which empowers senior management and business users with a means to easily access information at an enterprise level, share insights and collaborate in order to make decisions and take action effectively.  
The suite of Broker dashboards and MI offers the ability to track and forecast sales performance against targets across different sectors, by account handler, or any other metric in the data set.
Visualise who and where your customers are across the UK and analyse customer retention and attrition rates to identify where your business can increase customer lifetime value. Analyse policy income to improve profitability and measure where quote conversion rates are below or above expectations.
Compare the business portfolio with nationwide market data to identify anomolies.  Better understand customers with segmentation and enrichment to gain insight and improve marketing. 
The dashboards and MI tailored for MGAs add a greater focus on risk and claims. Monitor loss ratios, claims frequencies and triangulation's by segment and identify unfavorable trends as early as possible to maximise the time to intervene.
A detailed Broker pack allows each broker to be selected and to show all their key metrics including upcoming renewal volume and commissions. Track earned premiums and map risk exposure against enriched data such as flood areas and crime rates.
Better understand niche segments with data enrichment such as company information and report on conduct risk compliance requirements. 
Pre-Built IDS Data Visualisation Dashboards
These comprehensive sets of data visualisation dashboards for Brokers and MGA's have been developed in both Tableau and Power BI.  They are easily customisable as required depending on data availability and they focus on all areas for an insurance business. 
Insurance Data Visualisation Dashboards & MI Reports
The diagram below illustrates all the areas the IDS Analytics Solution data visualisation dashboards and MI reports focus on.
IDS EXPERTISE
Our team leverages its in-depth understanding of underwriting, policy admin systems and the data structures that underpin insurance processes with expert knowledge of the key metrics you use to measure performance and report on for compliance. 
As insurance data migration specialists our skill set ensures we can efficiently consolidate multiple systems and data sources and ensure data quality.
IDS also have extensive experience in helping different insurance experts at all levels transform volumes of data for different purposes including underwriting, regulatory, financial, actuarial, risk modelling and marketing. 
At IDS we don't just ask for an extract instead we will take into account the business structure and requirements, then look at the raw data available, and then configure the data sources and dashboards to maximise relevance and meaning for the business.  
We are technology agnostic and can wrap our granular understanding of insurance and data around which technology our clients wish to use.
Comprehensive Set of MI Reports
We have developed a comprehensive set of MI reports in Excel and SSRS designed to support the requirements of brokers and MGA's.  They are customisable as required depending on data availability and they cover all areas for an insurance business.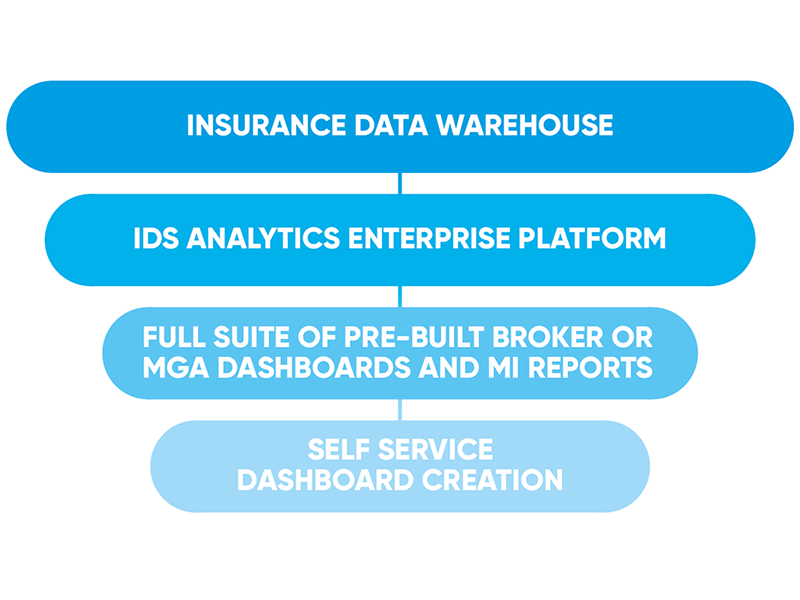 IDS Analytics Components
The IDS Analytics Solution includes 4 key components which are all ready for your data to me imported into.
Each component is easily customised for each client or can be used as a stand alone component which integrates with existing architecture. For instance, if you already have a data warehouse we can just provide the Analytics Platform and dashboards to plug into your data warehouse. Or for small brokers with one system you can just import spreadsheets and you won't necessarily need the data warehouse.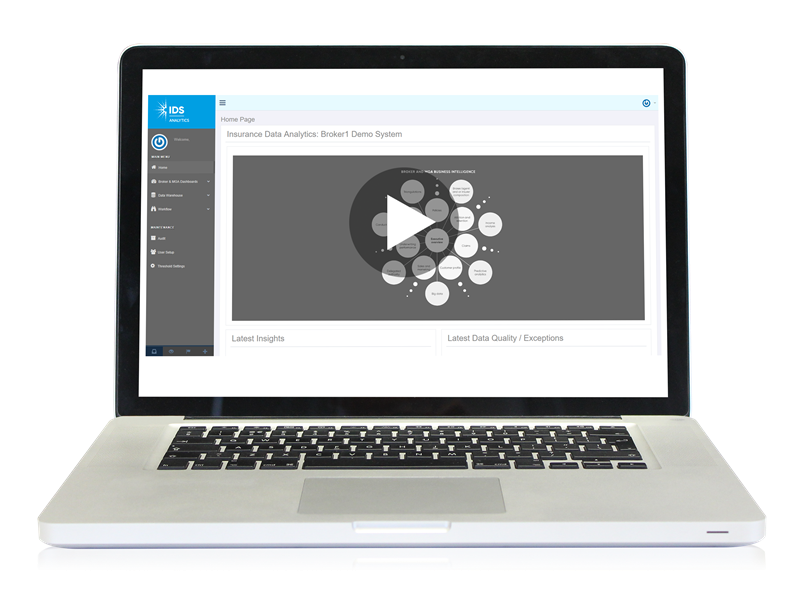 IDS ANALYTICS ENTERPRISE PLATFORM
The IDS Analytics Solution includes an enterprise business intelligence platform and collaboration tool  which improves decision making by giving you the ability to: 
keep all data visualisation dashboards and MI Reports up to date and in a single centralised library
control user accessibility and measure usage
define and set thresholds for instance loss ratio, retention, account handler targets etc..system insights will then alert users when thresholds have been reached 
define and set data quality issues for instance expiry before inception, blank fields etc..
log and share user insights against dashboards and track actions against findings
access data views for self service dashboard and MI and store within the central platform 
Upload additional data sources i.e. enrichment, adhoc. spreadsheets etc.
The IDS Analytics Solution includes a purpose built data warehouse to optimize reporting performance across multiple data sources, improve data quality and the timeliness and context of your business intelligence.
Data Upload
Data updates can be automated from your systems on a nightly basis.
Alternatively there is a upload template as well as advanced mapping functionality allowing you to import data as and when you wish.
External Data
Consolidate data from multiple systems and data sources including; Policy and Underwriting systems, accounting systems, CRM, call centres, claims software, adhoc. spreadsheets and external sources for data enrichment.
Control
Having a data warehouse gives you better control of your data including the agility to quickly respond to market opportunities and reducing costs when migrating to different systems.
Data Views for Self Service Analytics
Users with permission can also access data views in the warehouse giving them the ability to  easily develop their own dashboards and reports  without having to rely on IT or the Mi teams. 
Data Enrichment Widens Insight for the Insurance Sector
Correlating External Data With Insurance Data
There is an abundance of external data available today which can add value by helping you understand your customers and identify the risk factors and opportunities associated with your products to improve profitability. 
The IDS Analytics solution enables you to enrich your data sets with other important data that is not recorded or known by your business, which empowers better decision making, for example; 
Commercial and market information can tell you, how well the business or sector is performing and help you identify fraudulent behaviors by analysing the close relationship between business performance and claims activities or buying patterns and claims for instance with mobile phone insurance.
For MGA's in the Property Insurance sector, IDS can return the number of burglaries per head of a postal area and the trend as to whether this has been increasing or decreasing in recent months, which could have a direct influence on the rating of premium for contents insurance. Or how about tracking policy holders in flood risk areas, even when they declared they were not?  Would your business discuss premium credit terms to a company with an adverse Companies House status? 
To ensure marketing campaigns are better targeted, enrichment of your customers can help you better understand their demographics or the commercial sector they operate in and therefore their needs. Do you know how long your commercial customers have been in business?  Do your campaigns consider customer life-stage requirements and spending power?
Examples of Public and Private External Data Sources
Commercial / Company data
Flood risk areas
Crime trend rates
Individual, demographic and lifestyle info.
Location and property info.
Risk information
Nationwide market information 
The IDS Analytics Solution also supports data cleansing which ensure that the data you hold is current and accurate. This can include simply checking factual accuracy and weeding out spelling mistakes such as invalid postcodes.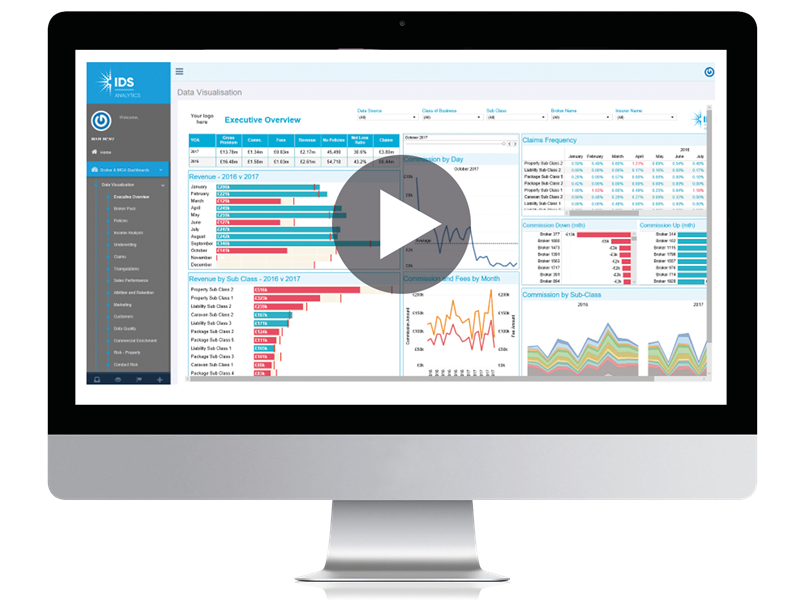 The Beauty of Data Visualisation Dashboards
The beauty behind data visualisation is you can easily see trends and outliers straight away without having to spend hours crunching numbers from spreadsheets. Data visualisation allows you to see your data as a picture which you can easily filter and drill down into the detail to analyse. See this functionality in  the demonstration video opposite.
TALK TO AN INSURANCE DATA EXPERT TODAY
Arrange a demonstration of the IDS Analytics Solution and discuss your specific requirements.