Delegated Authority Business in the Insurance Sector
Operating delegated authority business can be complex when you are managing binder agreements and processing bordereaux submissions in various formats and degrees of data quality.  Working with spreadsheets from different stakeholders in the distribution chain can be time-consuming, inefficient and prone to human error, causing difficulties in gaining a true reflection of risk exposure for informed decision making and regulatory reporting.
As ever-increasing compliance requirements demand visibility and transparency across delegated authority agreements improving the quality and flow of premium, risk and claim data is critical to improving collaboration in the network and competitiveness. 
The IDS Bordereaux Solution provides a cost-effective platform complete with broker portal for efficient binder management and bordereaux processing supporting Coverholders, MGA's, Brokers TPAs, and Insurers in sharing information efficiently.
Designed specifically for delegated authority business the solution automates the processes involved in managing, transforming, consolidating, validating and reporting bordereaux.  
With its flexible framework, it handles both incoming and out-going risk, premium and claims bordereaux and includes account reconciliation.  
Built with deep knowledge of delegated authority processes and data it supports users with the latest industry standards and in defining data quality and business rules ensuring risks are within binding agreement limits. Powerful dashboards and reports provide insight for decision making and compliance. 
The IDS Bordereaux Solution guides the user through the workflows and requires no technical resources in:
setting up binder agreements and contract limits
managing sections by type of business
uploading related docs. i.e. policy wordings and contracts 
uploading and mapping risk and claims bordereaux
controlling bordereaux data quality and managing exceptions
uploading payment bordereaux with full financial reconciliation
produce out-going bordereaux using a definable template tool and Lloyds standards   
reporting including MI and interactive dashboards
recording insurer and coverholder audits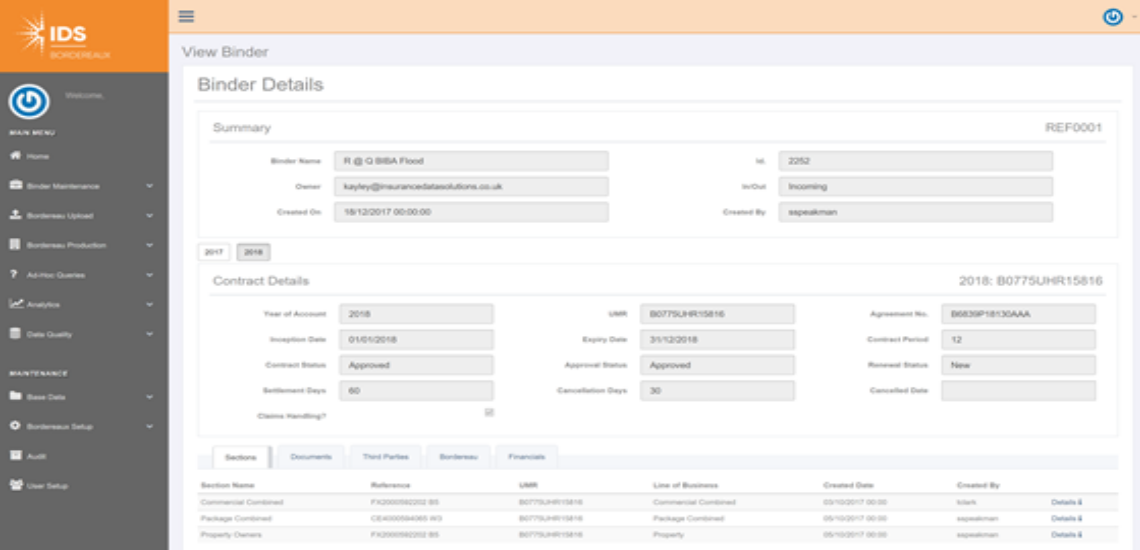 Binder Management
Setup incoming / outgoing binders
Edit, renew and cancel binders
Record Contract details (i.e. inception dates, estimated premium income, premium limits, agreement numbers, unique market reference, expiry, status, business rules.)
Set Up Sections (Class of business / premium limits / EPI / insurer splits)
Record Third Party Details (brokers / TPA's etc.) 
Upload Documents (contracts / policy wordings etc.) 
MI and data visualisation dashboards give an overview of binder composition (i.e. number of binders, sections,EPI target and limits, renewal dates etc..)  
Upload Bordereaux
Upload incoming risk, claim and payment bordereaux from spreadsheet 
Import data from underwriting / administration systems or reporting databases
Select section / class of business the bordereau is associated
Easily map columns to a consolidated data layer when you are setting up incoming data for the first time
drop down menus support you in mapping columns from source to target
The solution remembers previous mapping for future bordereaux within the same contract agreement. 
Map values to a standard list for consistency and easier reporting
With all data standardised to a common format this will save time enabling you to support increasing data sets.
File physical spreadsheet within the solution for ref.
MI and data visualisation show bordereaux processing (i.e. percentage processed, timing, number overdue etc.)
Data Quality
Prebuilt data quality and validation rules (i.e claims must have associated policy, adjustments must have a corresponding new business or renewal transaction, expiry before inception and validation etc.)
Users can also easily define additional data quality and business rules with no coding required. (i.e. exclude specific makes and models of vehicles when setting up contract agreement business rules).
Based on the predefined set of data quality rules the solution carries out data cleansing and will display errors based on severity which can be exported to excel.  
The data quality layer reports and flags all failed or missing fields.
Only high severity rules will prevent you from moving on to the transformation stage.
If there are high severity data quality and validation issues the bordereaux will need to be amended and revalidated
Supports Lloyds Premium, Claim, and Risk standard V5 and regulations such as Flood Re.
Bordereaux data quality is assured and MI and data visualisaton dashboards track results.  
Credit Control / Account Reconciliation
Reconcile against uploaded risk and payment bordereaux
The credit control position is presented based on contractual agreement terms set up in binder management
Reports show risks which are overdue for payment (If no payment bordereaux then you can manually mark items as paid.)
For outgoing payment bordereaux – confirm which items to include then produce payment bordereaux
Export a list of payment items so this can be reviewed by brokers
MI and data visualisaiton dashboards show financial reconciliation and processsing (i.e. payed amounts, outstanding payments, timing etc.)
Bordereaux Production
Out-going bordereaux templates includes all Lloyds manadatory reporting standards
User can also select additional columns required by insurers / MGA's
Create bordereaux export and file within the solution
Respond to data format changes and additional data requirements with ease
MI and data visualisaton dashboards show out-going bordereaux processing (i.e. percentage sent, timing, number overdue etc.) 
Audits
Record insurer / coverholder audits
Create recommendations against audits
Track actions against recommendations
MI and data visualisation dashboards show when audits are due, completed and progress against recommendations etc.
Control files log all activity for clear audit trail
Dashboards giving operational details (i.e. user activities, when changes have been made etc.)
Bordereaux Analytics - Data Visualisation Dashboards and MI Reports
Dashboards showing binder composition and bordereaux processing
Alerts highlight warnings (ie. when binder limits are being approached)
Prebuilt reports for operational and regulatory reporting (i.e. Conduct Risk and Solvency II)
The solution enables reporting across entire binder portfolio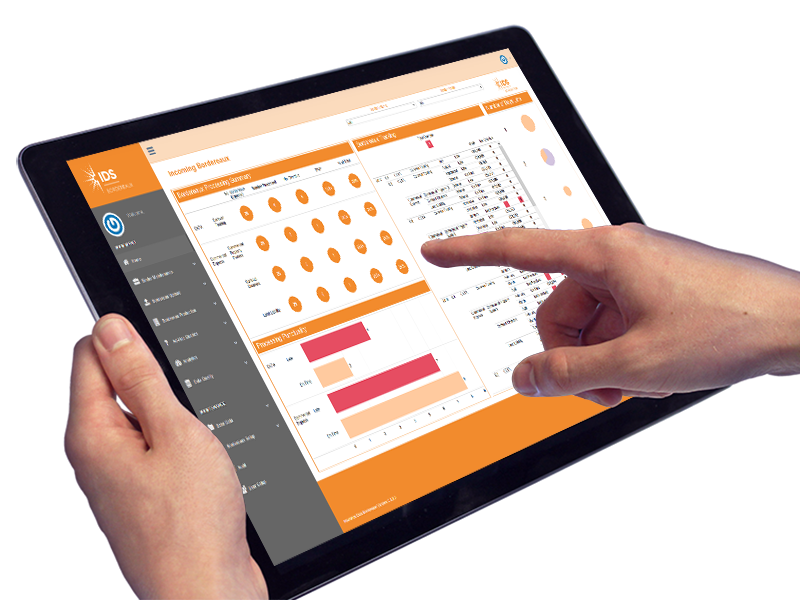 Powerful Dashboards & Mi Reports
Business Intelligence dashboards built with Microsoft Power BI transform the data in the IDS Bordereaux Solution into information and insight for decision making. Measuring performance for out-going and incoming bordereaux operations plus data quality and conduct risk dashboards.   
Interactive capabilities allow you to drill into the data for querying and analysis of trends and outliers. 
Also, includes pre-built operational and regulatory reports including Conduct Risk Reporting,  which can be tailored to your specific requirements. 
MI can be exported to excel and dashboards can be reproduced in PDF format. 
Benefits to Partners in the Distribution Chain
| | | | | |
| --- | --- | --- | --- | --- |
| Benefits | Coverholders | MGA s' | Insurers' | TPAs' |
| Reduces time, the potential of human error and issues around managing incoming bordereaux in multiple formats. |  @ |  @ |  @ |   |
| Reduces time, the potential of human error and issues around producing out-going bordereaux in multiple formats for different parties. |  @ | @ | @ | @ |
| Bordereaux links to binder agreements and gives you the ability to effectively respond to changes, additional data requirements with ease.  |  @ |  @ |  @ |  @ |
| Support increasing data protection regulations with better data management and compliance features. | @ | @ | @ | @ |
| Ensures data quality to binder business rules and supports Lloyds mandatory standards.  Validation rules prevent payment and claims being processed with a corresponding risk. | @ | @ | @ | @ |
| Reduces the chance of writing risk outside of binding agreements. |  @ |  @ |   |   |
| Reduced Complexity i.e.  in managing insurer splits, Flood RE policy requirements etc. |  @ |  @ |  @ |   |
| Efficiently bring new products to market and expand your portfolio of business offering a greater choice of expertise to prospective policyholders.   |  @ |  @ | @ |   |
| No code required - requiring little input from IT when applying changes.  |  @ |  @ |  @ | @ |
| As information will be stored consistently and up to date processes will be more efficient saving time and reducing operating costs overall. |  @ | @  | @  | @  |
| Reducing compliance costs through audit functionality and in supporting regulatory reporting requirements (i.e. Conduct Risk, Solvency II)  | @ | @ | @ |  @ |
| Underwriters can easily gain a better understanding of risk exposure |   | @ | @ |   |
| Claims - more efficient payment and reduced chance of disputes.  Coverholders can easily measure the effectiveness in settling claims by consolidating incoming claims reports and gaining insight from dashboards and reports. | @ | @ | @ |  @ |
| Credit Control - no need to reconcile premium and risk bordereaux the solution does it for you | @ | @ | '@ |   |
| Actuarial / Pricing - access to granular risk detail to assist when reviewing pricing |   | @  | @ |   |
| Catastrophe and Capital Modelling and Exposure Management - more efficient with accurate reserving and loss fund management. |   |   | @ |   |
Built With Extensive Knowledge of Delegated
Authority Processes and Data
Working for leading Lloyd's Insurers:
Reconciliation of premium, risk and claims bordereaux for Credit Control 
Reporting on improving bordereaux data quality 
Applied mandatory fields and Lloyds standards
MI reporting on all aspects of binder performance
Regulatory reporting for FCA Conduct Risk and Solvency II
Delivered a comprehensive Pan-European binder management data migration consolidating 5 systems. 
Developed an integration tool which transformed data from BDX to Risk Link for Catastrophe Modelling.
Provided Actuaries with granular risk data from BDX for Pricing. 
Working for Coverholders' and MGAs';
Automating the process of out-going risk and claims bordereaux, ensuring data quality and agility to efficiently respond to insurer changes
Adapted a coverholders out-going bordereaux to support Flood Re requirements
For MGA's producing complex bordereaux by YOA, triangulations and MI and BI dashboards. 
Developed a web solution which consolidates incoming claims bordereaux from multiple insurers for a Multi-National broker to import into their claim system and produce BI. 
Working with software vendors to make systems changes to improve bordereaux reporting. 
TALK TO AN INSURANCE DATA EXPERT TODAY
To arrange a demonstration of the IDS Bordereaux Solution and /or discuss how can tailor our services to your exact requirements.