Data Archiving in the Insurance Sector
Many insurers and brokers are saddled with paying costly licence fees for legacy systems, where there are data access issues, key man dependencies and risks in maintaining old hardware and software.  
When you acquire a book of business or when you migrate data to new systems you generally only migrate the current position or a limited number of years.  To support regulatory record keeping requirements legacy systems still need to be maintained, sometimes for many years depending on the line of business.   This continued expense, on deprecated platforms with processing capabilities that are no longer required, is often the bane of IT in the insurance sector.
Maintaining data integrity is a critical requirement from both a compliance and a business perspective.  Data warehouse and back up files do not suffice, as documents are not stored with associated data and users are impeded in retrieving all information with ease in the event of a claim or query from clients, stakeholders or the FCA,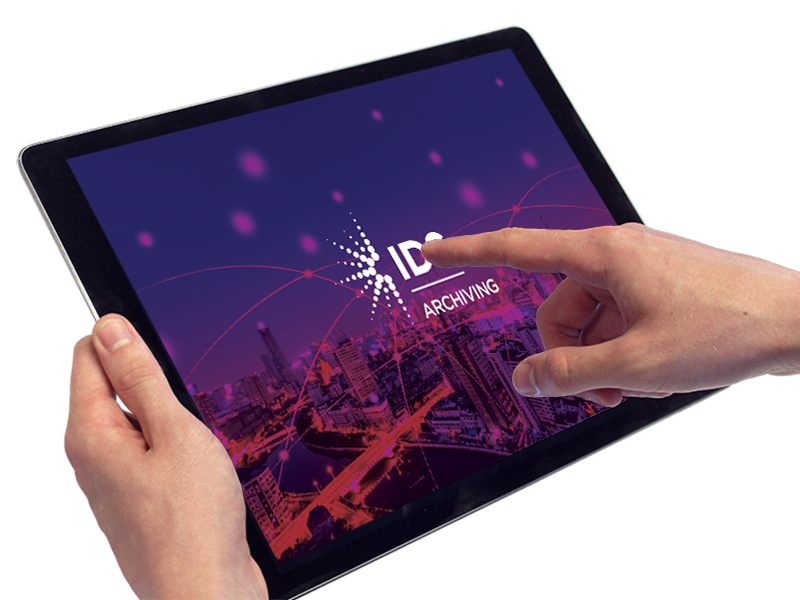 The IDS Insurance Data Archiver
Specifically developed to support our insurer and broker clients in decommissioning legacy systems. to reduce costs, and the risks of maintaining aging technology for those supporting onsite legacy servers and mainframes.
The IDS Insurance Archiving Solution offers cost-effective secure storage, maintaining for regulatory purposes the integrity of all historical policy data and documentation in a read only format. With the Apps user friendly web interface users can efficiently search and retrieve information in case of a query or a new claim being made. 
Outstanding accounts can even be settled within the IDS Archiver enabling systems to be decommissioned early.
Purpose Built for Personal & Commercial Lines of Business
The solution ensures your data stays intact, so that data can be traced and relationships between associated entities are maintained, ensuring everything is easily searchable and reportable.
| | |
| --- | --- |
| Clients | Risk information |
| Policies | Endorsement wordings |
| Quotations | Brokers |
| Notes | Insurers |
| Event Logs | Diaries |
| Claims information | Documents |
| Complaints | Accounts |
Built-in Power BI data visualisation dashboards offer valuable business intelligence on data composition, policy and claims dashboards, user usage, accounts etc.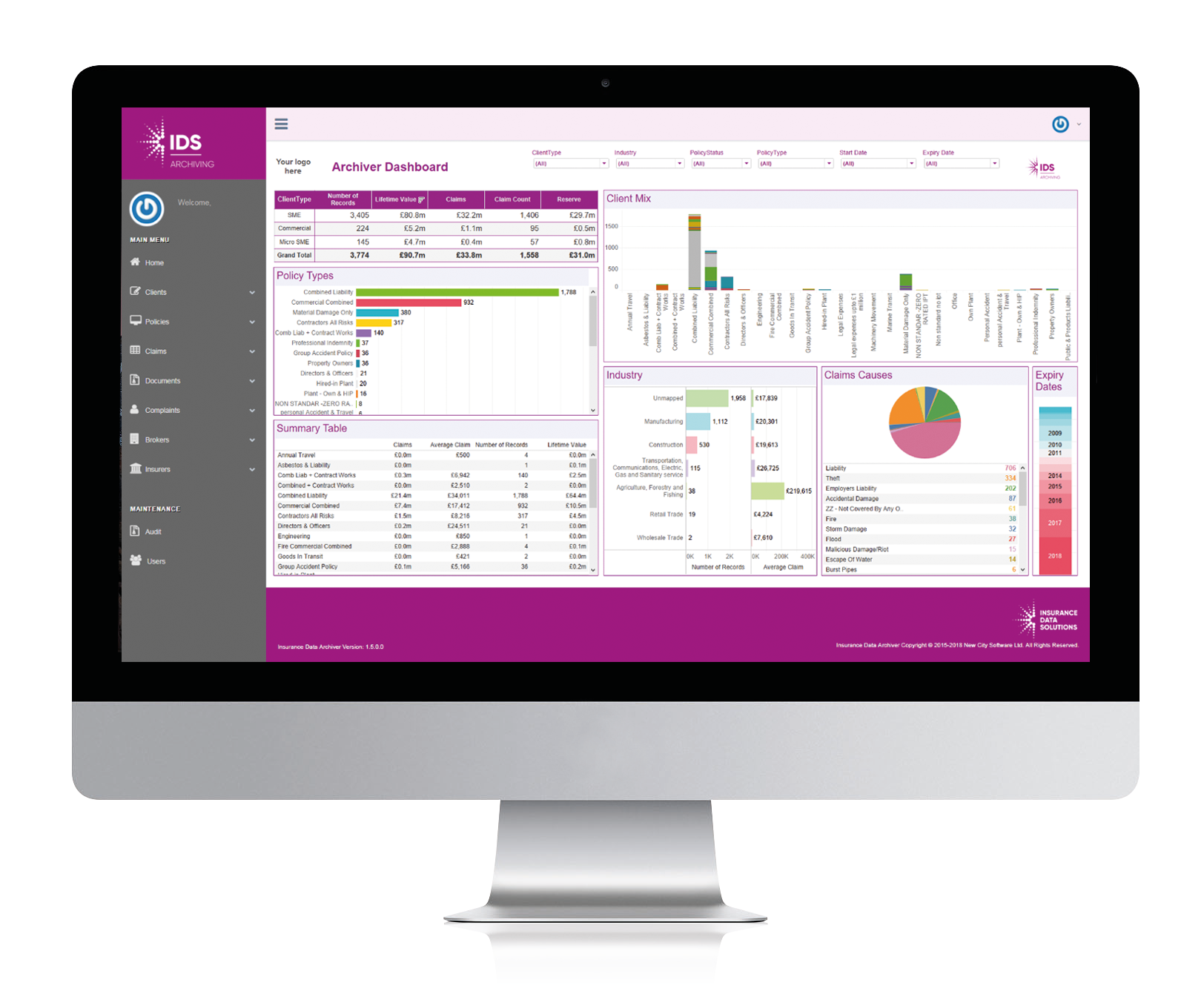 KEY BENEFITS OF THE IDS INSURANCE DATA ARCHIVER
REDUCES COSTS 
By decommissioning systems you can significantly reduce licencing and support costs.  
Reduce reliance on key staff with application knowledge. 
Limits costly storage costs in live administration system, increasing agility to change systems in the future. 
The IDS Archiver offers a low monthly hosting, licence and support charge for unlimited user access and discounts are given for multiple systems. 
Can simplify operating processes and capacity for automation. 
IMPROVES REPORTING 
Clients can be mastered from multiple systems giving a single client view. 
Based on search criteria data can be exported i.e. to excel, csv files and through SQL views to consume for reporting. 
In-built Power BI dashboards allow you to easily visualise and filter on Composition of Policies, Claims, Accounts and Operational usage. 
A large broker challenged with having data in varying formats across multiple systems is using the Insurance Data Archiver as means to get data into a common format reducing the routines required to get the data into their data warehouse for reporting.  Data is updated daily from live systems. 
EXPERT IMPLEMENTATION  
Our expertise in data migration ensures the implementation for each system into the IDS Archiver is delivered at a very reasonable cost and assured with reconciliation.  
Secure hosting and privacy by design.

 
Specifically developed to support FCA and GDPR regulatory requirements.

 
No long contracts with easy exit strategy after 1 year - it's your data after all!
We are keen to work with clients and partners and welcome ideas!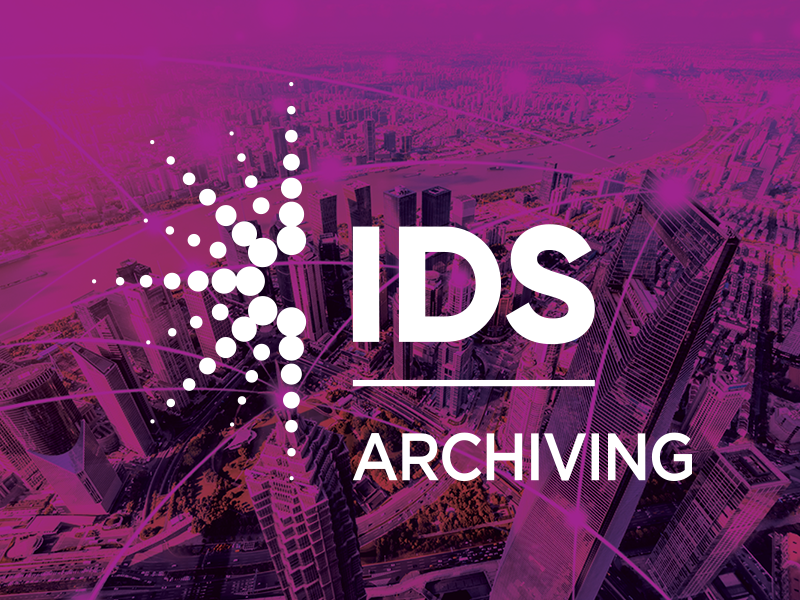 Functionality at a Glance
Modern web interface which can be deployed securely to the Microsoft Azure cloud or to your own local servers.
Protects your data in read only format to prevent tampering with secure encryption, access authentication and auditing mechanisms.
Configurable Data retention controls for GDPR compliance.
Advanced search and reporting capabilities by client name, policy number, broker, insurer, claims ref., document type, line of business etc.
Supports incremental loads from your live systems, and masters clients from multiple data sets to gain a single customer view
 Data visualisation dashboards and MI reports provide customer and business insight
Supports the settlement of accounts with customers, insurers and sub agents.
ARCHIVE TELEPHONE CALL RECORDINGS ALONGSIDE POLICY INFORMATION
Supporting Users with easy retrieval of telephone call data and recordings, linked to Client, Policy and Claims Information
providing complete evidence of what was disclosed in the event of a query or dispute.
The Insurance Archiver
Advanced search and reporting capabilities enable you to find customer records associated policies, claims, complaints, documents etc. with ease!
"Whilst maintaining limited licenses on our old legacy system it had become such a challenge for users to login when their was a query, the software provider was just not interested in helping us. With the IDS Archiver, its so easy for our users to find claims and documents making our response time much quicker."
Perfect for the Aquisition Hungry Broker? - quickly reduce your reliance on non cores systems
Client Business Issue
Many insurers and large brokers have grown through mergers and acquisitions encountering challenges with managing multiple vendors and having a variety of technology platforms, versions and approaches leading to higher costs for every new acquisition.   Although the business value of these systems decreases with every passing year, organizations often continue to support them for the purposes of data access and compliance. But the cost of doing so can consume over 50 percent of an overall IT budget.
Client Value Received
In supporting an acquisitive broker IDS extracts financial data pre-acquisition so that the book of business can be analysed. Once the acquisition is complete IDS extracts and imports all of the data and documents into their archiving instance so that that the broker can give notice to their legacy software supplier.  This reduces the licencing costs and takes away the responsibilities of maintaining servers.  Having all the data in one solution with a common format will also significantly improve the process of entering full details into their core system on renewal.  By consolidating the data across acquisitions into one common format, reporting and analysis is also a lot quicker to do.
Supporting GDPR Compliance Requirements
The IDS Archiver has been built to protect data subjects rights using data protection security including;
Encryption during transfer processes ensures personal data is unintelligible to any unauthorised person.
Data is not changed and acts as an authentic means to maintain data integrity.
Capabilities to search and extract all personal data of a particular data subject in order to comply with the right of data portability and accessibility.
Audit Log monitor and record any processing of personal data, activity and actions taken.  Reports can easily be provided to a supervisory authority showing processing is conducted in accordance with GDPR.
Data Retention and Erasure Rules are definable by the client, for instance based on company policy and ICO record-keeping requirements for different policy types.
TALK TO AN INSURANCE DATA EXPERT TODAY
Book an Online Demo of the IDS Insurance Archiver 01245 608253 
We have experience in successfully migrating data to / from most of the major policy administration / underwriting system in the UK and many bespoke systems.

Managing Director, Paul Johnson